MOSH and MOAH
Shocking news in December 2016: Chocolate Santa was suspected to be carcinogen because of mineral oil components migrating from packaging. Mineral oil aromatic hydrocarbons (MOAH) had been analyzed in 15 chocolate Santas. Together with MOSH (Mineral Oil Saturated Hydrocarbons) both substances are of very high concern being carcinogenic and mutagenic. It was first believed, that packaging materials containing recycled fibers would transfer their mineral oil constituents to food…
News from the German Federation of Food Law and Food Science (BLL)

Today we know that residues from mineral oils do not solely come from printed used-paper, but can migrate along the entire process chain into foods using different routes. BLL edited a new TOOLBOX for MOSH/ MOAH in December 2017 – giving a tabular summary of known entry paths of mineral oil components to help enterprises and to propose options for action.
&Bsp.;
However, prevention or reduction does not mean that there are target values provided for analytical measurements or that there is any "zero tolerance" for mineral oil hydrocarbons in general in place. BLL recommends tackling the problems with care under the principle of ALARA (as low as reasonably achievable).

Potential Reasons

For a long time, it was believed that mineral oil components can mitigrate if recycled cartons are used. But they can come from jute bags, hotmelt glues on stickers or mineral poil containing inks, too. This is why we ask our suppliers to not use it or at least giving a declaration of clearance. But this is only one aspect: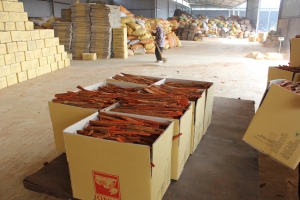 Did you know that some plants produce their own MOSH analogues? Means: some spices are forming their own hydrocarbons – mainly in the volatile oils (i.e. Terpenes, Olefine or Carotinoide). Their presence in certain spices is inevitable and could increase the analytically detected MOAH values.

Apart from this, mineral oil residues are sometimes resulting of contamination during cultivation, or harvest. Machines have to be lubricated and produce combustion residues or the area of cultivation is next to a road. Again this can be potential intake of mineral oils.


During our audit travels, we frequently see spices being sun-dried on the asphalt. In the tropical countries, the sun heats up the asphalt and this speeds up the sun-drying process.
Nevertheless, heat resolves mineral oil components from the asphalt.
Improper use of machine oil, lubricants or oil contaminated compressed oil can be a reason for MOSH/MOAH intake. BLL recommends food grade lubricants.



Even container lining with used paper or cardboards could cause an intake of MOSH/MOAH into the products. So we ask suppliers to reduce lining and to add dry bags or to ship with reefers to avoid humidity in the containers. This tends to be more expensive, but safer.
Assessment

According to BLL, normal consumption habits do not cause a food safety problem with mineral oil components. Maybe this is the reason, why actually no tougher laws passed the parliament.
Nevertheless, the German Federal Institute for Risk Assessment (BFR) stated – with reference to EFSA (European Food Safety Authority) – that mineral oil components are entirely unwanted and should be reduced whenever technically feasible.

AKO Supplier Management
We are proud of our supplier management because we have a close contact to our partners in the origin. So we built up a good information system for non-European suppliers to keep them up-to-date. Beside of our audit travels and trainings for farmers, we developed a NEWSLETTER FOR SUPPLIERS to inform them about new European requirements and regulations – such as MOSH/MOAH and our lab send our partner the necessary feedback about their progress.


In case of questions, please do not hesitate to contact us.
All data given are according to our todays knowledge or opinion. They are without obligation.