The container is near to our warehouse's gate, ready to get unloaded. It carries the name of an international shipping company and also a number of different Chinese symbols. Transported by sea from Qingdao/China to Hamburg/Germany for more than 11.000 sea miles and 35 days journey, it has already passed a long journey. Via the South China Sea, traversing Singapore, South of Sri Lanka, through Suez Canal, the Mediterranean Sea up to the North, passing The Netherlands to Hamburg. One of more than 17 TEUs that are shipped annually from big shipping agencies like Cosco, Maersk, Evergreen, Hapag Loyd and others from Eastern China to Hamburg.



Qingdao is the sixth-largest harbor in the world and the fifth-largest harbor in China. However, the time of long-term-shipping is over –China is constructing the "New Silk Road"- the biggest infrastructure project in the world!


The Project "One Belt, one Road" – Chinas new Silk Road

It seems to be the revival of the "old Silk Road", but it has nothing to do with Marco Polo. The truth is that this is really a giant project to connect central Asia, Middle East and Europe.  More than 35 % of the global economy and more than 65 different countries are involved.

  The Chinese initiative has been launched in 2013 from Xi Jinping, General Secretary of the Communist Party of China. His target: promoting exports, building up and strengthening of bilateral trade relations, gaining geopolitical influence, and improving the infrastructure of Western China.

This in fact would help to connect China with the Western countries and to give the increasing Chinese population more space. The project aims to build new roads, to expand and upgrade the logistical infrastructure such as railroads and port facilities and to have new gas pipelines together with telecommunication lines.    Planned investments include the expansion and development of overland routes with six passages ("Silk Road Economic Belt"), a maritime Silk Route in the South and – in future tense  a navigable way to ship alongside the Bering Sea.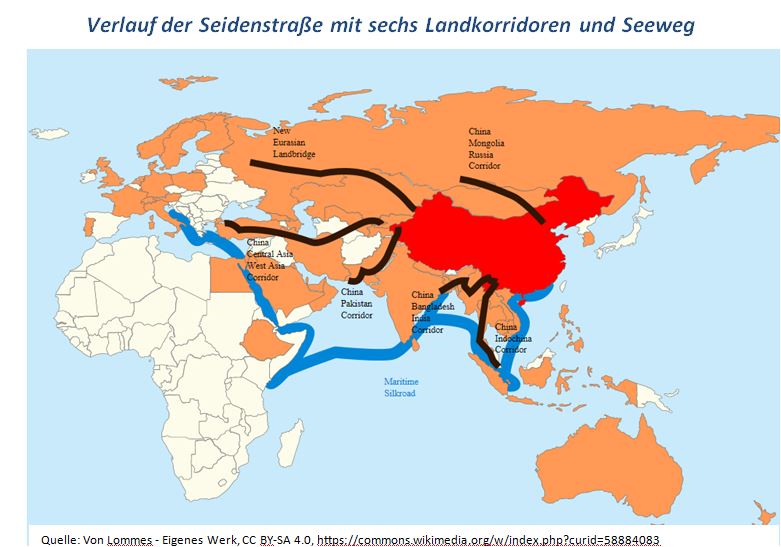 The Silk Road's course

The project "One Belt, one Road"  has been integrated in the Chinese five years plan, making the project refundable for Chinese banks. There are many Co-Financers: a 40 billion USD Silk Road Fond, a 100 billion USD Infrastructure Fond and a 16 billion Maritime Silk Road Fond.
Chances behind it

With this project, China hopes for economic success, growth and political stability. Chinese provinces without access to the sea are actually very poor and economical isolated. Goods for export has to pass the chronically congested cross-country roads.
This leads to the fact that the 350 million inhabitants of the lower developed Northern and Western Chinese provinces earn only half as much as the well-developed Southern and Eastern Provinces.[1] It frequently attracts millions of migrant workers to the East and creates significant social tensions.


Improved infrastructure would enhance the Chinese exports in the fourteen neighboring countries, actually coming up to only 9 %.   [2](German exports to neighboring countries are currently 35 %)

Many of the new infrastructure projects also lead to bilateral trade agreements and would result in a greater independence from the USA.

Opportunities for the Spice Business
In former days a lot of coatings, furs and porcelan had been transported from China to the Western Countries alongside the Silk Road. Today, the Chinese mainly export electrical equipment, garments and spices. China is an important supplier of fresh and dehydrated garlic, onions, chili and paprika products.

Nowadays, three to four times a week, a train leaves Chongqing to Duisburg/Germany alongside the new Silk Road. Each train transports forty containers. The transport lasts 12 days passing China, Kazakhstan and Russia. The trains passes 2.500 km. So the transport lead times gets shortened from 35 days to only 12 days.  This sounds attractive, but is twice as expensive as via sea.   There is still a lack of capacity because it needs 250 trains to substitute one container ship.

The new Silk Road is actually not attractive yet in crossing Asia to Europe, but could become interesting in the future. If it works, European spice importers could calculate with shorter lead-times, they could react faster on local demands and could reduce their stocks.  When in addition, new capacity on freight loads would lead to reduced freight costs, the new Silk Road could be interesting not merely for the European Spice Importing Companies, but also for the European consumers.


[1] IWF Kurzbericht 2016
[2] ostexperte.de/china-neue-seidenstrasse/ Ausgabe 13 von April/2018
All data given are according to our todays knowledge or opinion. They are without obligation.